---
This website is now archived. We have moved to our shiny new website at: http://www.writing4pleasure.com Please come and join us there.
We were recently asked: what are some of the best books on the subject of teaching writing? Here's our list so far!
On Teaching Writing
Donald Graves – Writing: Teachers & Writers At Work
Truly inspiring. If you were only to buy one book from this list, make it this one. The best book I've ever read on the teaching of writing and has changed the way I teach writing forever. You can read a tribute to Donald Graves here.
In The Middle – Nancie Atwell
Nancie Atwell is one of the most highly respected educators in the U.S. and across the world. She is the winner of the Global Teacher Prize. This book has inspired generations of teachers and shares the innovations she uses to make the biggest impact on learning to read and write schoolwide.
The Art Of Teaching Writing – Lucy Calkins
I saw writing as a process of choosing a topic, turning the topic into the best possible draft, sharing the draft with friends, then revising it. But I've come to think that it's very important that writing is a process not only of recording, but also of developing a story or an idea – with something noticed or something wondered about. When writing begins with something that has not yet found its significance, it is more apt to become a process of growing meaning.
Writing Through Childhood: Rethinking Process & Product – Shelley Harwayne
In Writing Through Childhood, Shelley dares us to rethink our beliefs about how we design writing workshops, use writer's notebooks, choose appropriate genres, teach spelling, help students connect their reading to their writing, and even edit and publish students' writing. Filled with stories and work samples of real children in a diverse urban setting, the book will inspire rich conversations in which educators ask essential questions about their own practice.
Developing Young Writers In The Classroom – Gail Loane
This book explores the principles of developing literacy through authorship, allowing children to describe, question and celebrate their own experiences and personal creativity. The book offers detailed guidance, supported by planning documents, poetry and prose, examples of children's work and stimulating visuals.
No More 'I'm Done' Fostering Independent Writers In The Primary Grades – Jennifer Jacobson
Particularly good for KS1, LKS2 as it shows even younger children can grow into being independent writers! Disregarding the false notion that writing instruction in the primary grades needs to be mostly teacher directed, Jennifer Jacobson shows teachers how to develop a primary writing workshop that helps nurture independent, engaged writers.
Teacher Handbooks: Developing Children's Writing – David Wray & Roger Beard
A fantastic handbook on how to teach writing through the writing workshop approach. Written by two exceptional minds on the subject of children's writing too.
Joy Write: Cultivating High-Impact, Low Stakes Writing
Nothing helps writers grow like practice. But not just any kind of practice will do. You've got to bring the joy! In Joy Write, beloved writer and teacher Ralph Fletcher shows you how.
How's It Going – Carl Anderson
Meeting children where they are. A great way to give valuable feed-back to writers is through Pupil-Conferencing. We talk about its benefits here – and so does Carl Anderson in this fantastically practical book.
Real World Literacy – Ross Young & Felicity Ferguson
A cheeky plug, I hope people won't mind! If you're looking for a writing approach which is based on research, then why not try our book Real-World Literacy. It makes available practical ways in which to use the most effective writing practices and it can be purchased from us for as little as £5! Email us at literacyforpleasure@gmail.com for a preview.
***
On Writing
Growth Through English – John Dixon
After visiting Dartmouth USA in 1966 for a writing conference, John Dixon produced a complete critique on the most popular writing approaches of the time and many which are still existing today!
Developing Writing Teachers – Terry Locke
The premise of Developing Writing Teachers is this: when teachers of writing identify as writers, it adds a special dimension to their writing pedagogy. Practical and accessible while drawing on a range of relevant research and theory, this text is distinguished by its dual focus―on teachers as writers and the teaching of writing.
Writing & The Writer -Frank Smith
Exploring the relationship between the writer and what he/she happens to be writing. An original examination of writing-as a craft and as a cognitive activity. It considers the necessary disciplines of writing, such as knowledge of the conventions of grammar, spelling, and punctuation. In particular, there is a concern with how the skills underlying all these aspects of writing are learned and orchestrated.
Joining The Literacy Club – Frank Smith
"The Literacy Club," Frank Smith's metaphor describing the social nature of literacy learning, has become widely used in recent years. The essays in this collection reflect Smith's belief that we learn from other people, not so much through conscious emulation as by "joining the club" of people we see ourselves as being like, and by being helped to engage in their activities.
English and Its Teachers: A History Of Policy, Pedagogy & Practice – Simon Gibbons
This book offers a historical overview of the development of secondary English teaching in schools over the past 50 years. Initially charting the rise of a new progressive approach in the 1960s, the book then considers the implications for the subject and its teachers of three decades of central policy intervention. Throughout, document and interview data are combined to construct a narrative that details the fascinating and, at times, turbulent history.
Introducing Teachers' Writing Groups – Jenifer Smith & Simon Wrigley
Teachers' writing groups have a significantly positive impact on pupils and their writing. This timely text explains the importance of teachers' writing groups and how they have evolved. It outlines clearly and accessibly how teachers can set up their own highly effective writing groups.
Learn To Write – Donald Murray
Learn To Write gives you a framework you can use to create original and compelling writing. Donald Murray, with his famous clear and succinct writing style, will show you how to move from an initial idea all the way to a final draft.
10 Things Every Writer Needs To Know – Jeff Anderson
Jeff Anderson focuses on developing the concepts and application of ten essential aspects of good writing for students – motion, models, focus, detail, form, frames, cohesion, energy, words, and clutter.
***
On Building A Writing For Pleasure Classroom
Writing Voices: Creating Communities of Writers – Teresa Cremin & Debra Myhill
The perspectives of children, teachers and professional writers are often absent in the pedagogy of writing. This book gives expression to these voices, making a new and significant contribution to understanding what it means to be a writer. Importantly, it discusses how to teach through a Writing For Pleasure pedagogy and how to be a 'Writer-Teacher'.
The Reader/Writer Teacher's Companion: Build A Literate Classroom – Donald Graves
A complete and easy guide to setting up a class so that it supports children's reading and writing for pleasure. Just a beautifully easy to read book.
***
On The Connection Between Reading & Writing
Lasting Impression: Weaving Literature Into The Writing Workshop – Shelley Harwayne
This book and the work of Shelley Harwayne in her New York school is an inspiration. She discusses how she led her school to fully integrate the pleasures of reading and writing and how they can be developed concurrently. The best book I've read on the reading/connection.
When Writers Read – Jane Hansen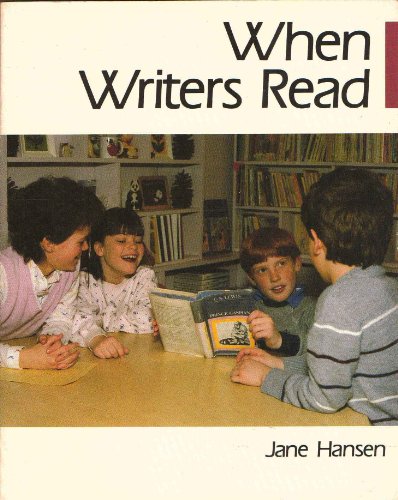 One of the finest books on the teaching of reading let alone writing. This book will blow your pedagogical mind. Thoughtful, sensible and utterly practical, Jane Hansen describes clearly how you can create a truly Literacy For Pleasure classroom. Where children's reading and writing merge into a genuine and meaningful whole.
Teaching Literature: Nine to Fourteen – Michael Benton & Geoff Fox
If you're looking to go beyond the simplistic views of teaching literature such as book planning or novel study, then this book is most certainly for you. It really gets down to the business of what it means to truly teach literature.
Read To Write – Donald Murray
Read to Write is such a great book for understanding how writers read both their own compositions as they progress and the published writing of other writers in order to learn how to write more effectively. What is discussed is easily transferred to practical classroom teaching.
Reading-Writing Connections: From Theory To Practice – Mary Heller
Reading-Writing Connections: From Theory to Practice is an extraordinary language arts methods text that enables elementary and middle school teachers to create classroom environments where all students can become lifelong readers and writers.
The Reader in the Writer – Barrs & Cork
An often misunderstood book, The Reader in the Writer looks to promote children using their reading in their writing.
Writing For Pleasure – Michael Rosen
This booklet covers Michael's thoughts on reading, writing and responding to literature. It focusses on how writing can be a hugely pleasurable activity particularly when you consider your personal responses to literature.
Writing Study Lessons
Lessons That Change Writers – Nancie Atwell
In this book, the focus is on 'Writing Study' lessons as a vehicle for helping students improve their writing. She shares over a hundred of these writing lessons which are described by her students as "the best of the best."
Craft Lessons: Teaching Writing – Ralph Fletcher & Joann Portalupi
In these books you'll find a generous collection of craft lessons directed at the genres that are most appropriate for the particular age you're teaching.
The Writing Strategies Book: Your Everything Guide To Developed Skilled Writers
This book has collected 300 of the most effective strategies to share with writers; grouping them beneath 10 crucial goals.
On Poetry
Awakening The Heart – Georgia Herd
A beautifully elegant book, it shows you how you can create life-long poets in your classroom. Full of strategies for generating poetic ideas with your class and create an environment where poetry can shine everyday.
What Is Poetry?: The Essential Guide to Reading and Writing Poems – Michael Rosen
Over many years as a working poet, Michael Rosen has thought a great deal about what poems are, what they can do and the pleasure that comes from writing and reading poetry. In this invaluable handbook, he shares this knowledge and experience in book form for the very first time. Starting with a detailed analysis of a number of classic poems, he offers a real "writer's guide" to writing and performing poems, as well as a wealth of technical information and tips. He then takes a fascinating look at a selection of his own poems and explains how and why he wrote them. I should say that this is completely suitable for children to read independently too.
Poetry In The Making – Ted Hughes
In a series of chapters built round poems by a number of writers including himself, Ted Hughes explores, colourfully and intensively, themes such as 'Capturing Animals', 'Wind and Weather' and 'Writing about People'. The purpose throughout is to lead on, via a discussion of the poems (which he does with riveting skill) to some direct encouragement to the children to think and write for themselves. He makes the whole venture seem enjoyable, and somehow urgent.
Wishes, Lies and Dreams: Teaching Children to Write Poetry – Kenneth Koch
The classic, inspiring account of a poet's experience teaching school children to write poetry. Koch describes his inventive methods for teaching these children how to create poems and gives numerous examples of their work.
***
Functional Grammar Texts
Rediscover Grammar – David Crystal
Gives clear demonstration of how language structures link together, description of features and usage and cautions against easy mistakes. Updated to reflect developments in terminology following the National Curriculum and Key Stage 3 framework. This text was certainly useful when we created our Functional Grammar Table – see here.
Mechanically Inclined – Jeff Anderson
Some teachers love grammar and some hate it, but nearly all struggle to find ways of making the mechanics of English meaningful to kids. Jeff Anderson began researching and testing the ideas of scores of grammar experts in his classroom, gradually finding successful ways of integrating grammar instruction into writer's workshop. Note: This was also a useful text when we were building our Functional Grammar Table – be mindful though that some grammar 'rules' used in the US do not reflect usage in the UK!
On Identity
Decolonising the Mind – Ngugi Wa Thiong'o
Ngugi describes this book as 'a summary of some of the issues in which I have been passionately involved for the last twenty years of my practice in fiction, theatre, criticism and in teaching of literature.
Translanguaging – Ofelia Garcia
Looking closely at what happens when translanguaging is actively taken up to teach emergent bilingual students across different contexts, this book focuses on how it is already happening in classrooms as well as how it can be implemented as a pedagogical orientation.