Why do we have free-writing Fridays?
I think and worry about this a lot.
Does free-writing Friday mean that for the rest of the week you're not writing freely?
Some people call these days 'writing for pleasure' days but does that mean that on all the other days I have to write with displeasure?
I have no doubt that most of us will think children enjoy these days – at least at first. We will also think it's a good thing for children to do. I worry, though, because I suspect that many of us will be disappointed in or misunderstand the 'results' we get from such days. I worry that many of us will be concerned about the perceived 'quality' of what our children produce. 'Results' won't match expectations. I also worry that many of us will ultimately feel guilty because we haven't put a structure in place for this particular activity, and will fear that free-writing Fridays will end up just being a waste of time.
However, we as teachers aren't justified in feeling disappointment, because what we are asking the children to do is really very difficult for them. Consider this. From their earliest years, children have always wanted to 'write' and they happily mark-make and come up with ideas for their writing without any problem at all.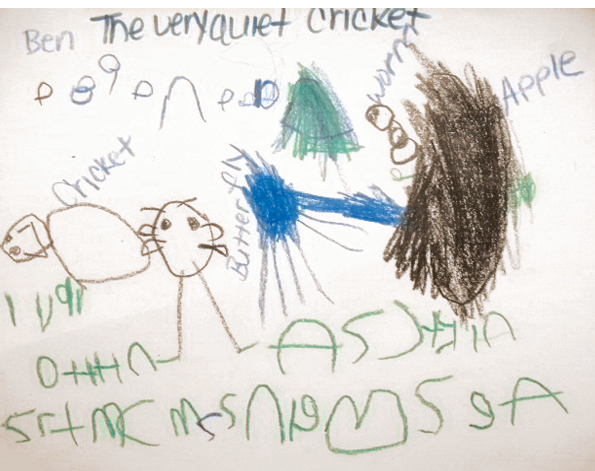 However, once these children enter formal schooling, this desire is largely extinguished and the opportunity taken away. Over the years, we have instead 'told' them the following:
(a) That they don't have anything worth writing about and so we will choose it for them,

(b) Then, we tell them how to write it.
All of a sudden, on free-writing Fridays, we do just the opposite and ask children to generate ideas and (possibly) see some of these ideas through to publication without proper support and instruction on how to write for themselves. No wonder children struggle. Because of this, it may look like personal writing time is ineffectual or that the children are losing interest. But it's not the children's fault! Believe me, children want to write. And they do want to write their own things. They have simply forgotten or have never been shown how to write for themselves, on topics which interest them, and for their own purposes. In other words, they haven't been taught how to be writers.
What we should conclude if personal writing time becomes a disappointment is that our writing teaching may well need changing. It needs to change so that we are teaching children how they can write freely, successfully and for pleasure every day! What we shouldn't do is blame the children for what we perceive as the failure of free-writing Fridays. Children need instruction and, most importantly, modelling about how professional or hobbyist writers generate ideas for writing. That's usually the crux of why children struggle and it happens because, during class writing projects, generating ideas is the one writing process that is not routinely taught. Instead, we do it for them.
So how to help children get the most out of personal writing time? Here are some suggestions:
Generate ideas together for class writing projects.
Stop supplying subjects for class writing projects. Instead, allow children to do this important work! For too long, children have been recipients of writing projects as opposed to participants. Change this. There are a number of ways in which you can have children generate ideas. You could use some of the techniques real writers use. We've made these available for free in our Writing-Study lesson pack. You could use one of these techniques as a whole class. You could gather around some flipchart paper and together brainstorm ideas until you find one you all like the sound of. Alternatively, you can ask the children to use the technique in groups or in pairs and share their good ideas with the whole class. Finally, you can ask the children to try out these techniques on their own – in their books. 
2 Model idea generation techniques at the beginning of free writing Fridays.
There are numerous techniques in our Writing-Study pack that both fiction and non-fiction writers use to generate ideas so why not try some of these techniques for yourself and model for the children how they can use them too? You can do this as a short mini-lesson at the start of free writing Friday. Easy!
Start using process goals during class writing projects.
What are process goals and how do you use them? A process goal is an aspect of the writing process. They are typically called:
generating ideas

prewriting/dabbling/jotting/planning

drafting

revising/re-reading and improving

editing/proof-reading

publishing/performing
When planning or teaching a class writing project set a process goal you want the children to complete and give them a deadline which runs over a few days – not just one session! Once the children have completed the class' process goal, they can spend the rest of their time pursuing their personal projects. This means they don't just write for their own purposes one day a week anymore. We have written about process goals in more detail here.
4.Set up class publishing houses
Writing is a highly social act. Sometimes we write only for ourselves but often we write because we want to be sociable. Writing is often about both process and product. It is about enjoying crafting some writing but it is also about the satisfaction that comes with seeing a piece of writing through to publication! This is no different for children.The prospect of seeing their words 'get to work' is highly motivating. Why not allow children to have an end goal of publishing their favourite writings into the class library? They can do this through one of the class' publishing houses. We established this last year, and you can read about how to do it for yourself here.
Let the children be sociable
Let children write together – let them talk together. Speaking and writing are so closely related. Talking to someone or working alongside someone on a piece of writing can be really helpful. Allow children to work with others and to share and mould their manuscripts with trusted friends. Let children ask one another for potential writing ideas and let them copy one another. Let them work in 'clusters' on a similar theme. Let them do their own versions of texts they've read. In this way you will be helping them sustain their enjoyment of writing.
Write amongst the children
What better way to show children how to use personal writing time productively than to share with them how you use it yourself? You should be writing yourself with regularity. You should seek the advice of your fellow apprentice writers and you should be contributing to the class library like everybody else in your community of writers. By doing this, you'll experience the joys and struggles that they often have too. You can address these and make the writing environment even more productive. You will also learn valuable writing lessons along the way and you can share these with your fellow writers – you may even learn a thing or two from them. It's important that you too are sociable during these times. Ask the children around you to check your manuscript and ask for their advice.
Let personal writing projects go home
In a reading for pleasure pedagogy, if you let children read enough at school they want to carry on at home. They get an appetite for it and they get 'on a roll'. The same can be said for personal writing projects. If motivated, allow children to continue working on their manuscripts at home. Let personal writing books go to and from home freely – just as their reading books do.  
8. Make time for 'author's chair' and sharing.
Children often take great pleasure and feel a real sense of satisfaction and motivation in knowing that they can share their writing with the community of writers in the classroom. Therefore, always make time for what is called 'author's chair' as well as more private peer sharing of their compositions. Let children perform and let children see their writing 'get to work' with an audience. With this said, also respect children's right not to share if they don't want to.
Peter Elbow & Free-Writing
Finally, just a quick note on terminology. We like to use the phrase 'personal writing projects' instead of free-writing. We also quite like 'free choice writing'. We use this phrase because 'free-writing' is actually an incredibly useful and popular writing technique used by some writers. It was popularised by the writer Peter Elbow and it's a technique we teach the children in our class. The technique is about writing – without delay – without stopping – for around 10 to 15 minutes. You can write with or without a topic in mind. It's seen as a kind of pre-writing activity. Once your time is up, you can comb through what you've written for any interesting themes that you might want to develop further. Give it a try!
***
If you liked this blog post, you may also like to read about our approach to writing we call Real-World Literacy.
If you would like to receive updates from our blog, you can click the follow button in the top right-hand-corner of the page. Alternatively, you can follow us on twitter at @lit4pleasure or join our writing for pleasure community @WritingRocks_17